Here are 15 Quotes To Help You Say Goodbye.
1."The reason it hurts so much to separate is because our souls are connected. Maybe they always have been and will be. Maybe we've lived a thousand lives before this one and in each of them we've found each other. And maybe each time, we've been forced apart for the same reasons. That means that this goodbye is both a goodbye for the past ten thousand years and a prelude to what will come." ―Nicholas Sparks
2."The story of life is quicker than the wink of an eye, the story of love is hello and goodbye…until we meet again" ―Jimi Hendrix
3."You've changed me forever. And I'll never forget you." ―Kiera Cass
4."My breaking heart and I agree, that you and I could never be, so with my best…my very best, I set you free" ―Rachel Yamagata
5."It's the emptiest and yet the fullest of all human messages: 'Good-bye.'" ―Kurt Vonnegut
6."When I am brave enough to say goodbye I'll use the wings you gave me and away I'll fly" ―Celia McMahon
7."I didn't think saying good-bye would be so hard. And with everything that's to come—We'll face it together. To whatever end." ―Sarah J. Maas
8."From all my dreams where you felt everlasting to all my clothes your words used to wear, to the old end, to the new beginning, you have lost me everywhere." ―Khadija Rupa
9."I don't think that I could ever say goodbye to you… Not even if you said it to me." ―Jaimie Roberts
10."By and by we shall say goodbye" ―Ernest Agyemang Yeboah
11."I'm floating. I'm flowing. I'm loving, but I'm going." ―Dominic Riccitello
12."Before you leave me again, tell me, so I can let you know if I'm ready to watch you go…" ―Donna M. Zadunajsky
13."Don't cry because it's over. Smile because it happened."
14."We started here together and now we're leaving the same way. The funny thing is you never appreciate what you had yesterday until it is gone today."
15."When I had to say goodbye to you, my love, it was like saying goodbye to my life."
---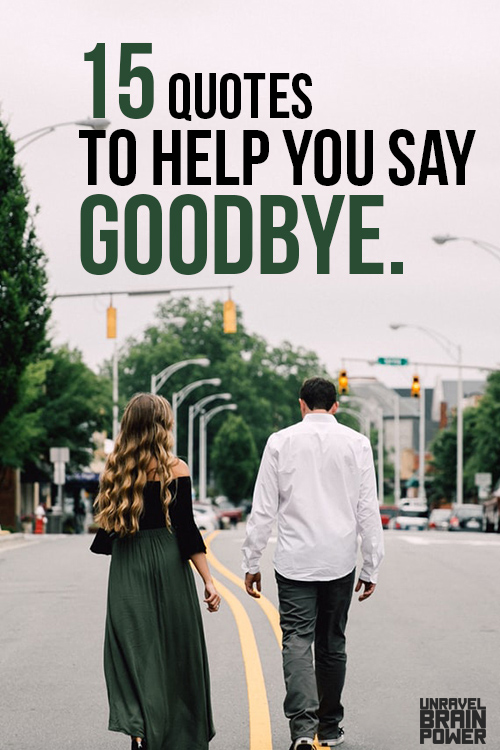 Read More – 15 Heart Touching Quotes About Being Alone, That Will Leave You Feeling Less Lonely.