Why should I live? After all that I have had to face in my life so far, is this life worth it anymore? These are thoughts that might occasionally pop up in your mind after you face certain adverse experiences in your life and feel completely bogged down. We at Unravel Brain Power have brought a reason to stay alive list for you, containing 100 reasons to stay alive. Go through the reasons you have to stay alive and smile, because you have so much more left to explore, so many possibilities ahead.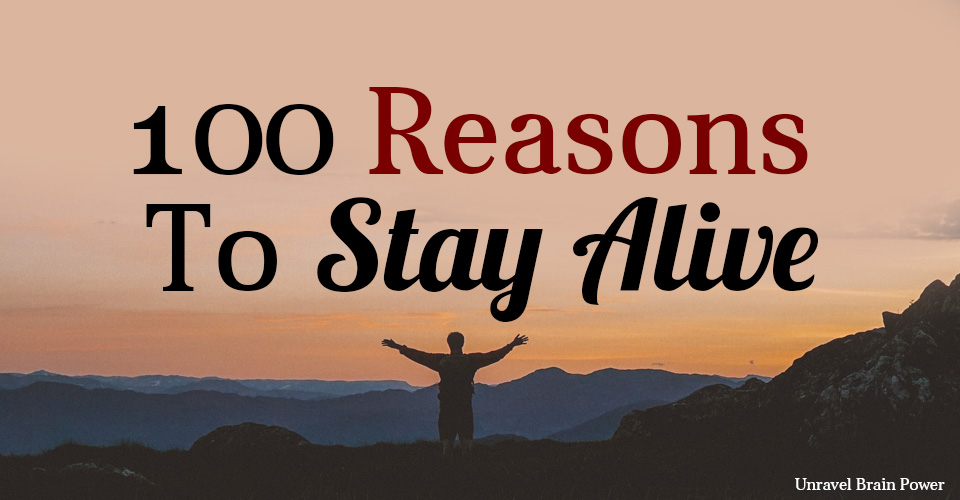 100 reasons to stay alive list
Listening to the soaring wind.
Witnessing the first rainfall of autumn.
Enjoying seasonal fruits and vegetables.
Stepping on dry leaves and hearing their crunch.
Watching shooting stars.
Holding hands with someone.
Having your first kiss with someone.
Making love for the first time.
Waking up an hour before the alarm buzzes.
Recovery from pain or trauma.
Recovery from addiction.
Catching up with old friends.
Making new friends.
Getting your first payout for your work.
Celebrating birthdays – be it your own or your near and dear ones.
Dancing and singing with karaoke.
Enjoy freshly baked cookies and tarts.
Catching your favorite song on the radio without having to wait.
Enjoy tea and breakfast in your bed.
Passing exams with flying colors.
Suddenly surprising your mother with a big, warm hug from behind.
Going for trips with near and dear ones.
Going for bonfires on cold winter nights.
Buying new clothes for no reason at all.
Traveling solo and exploring new places.
Hugging your friends and people who are close to you.
Smiling after remembering a funny incident.
Re-reading your favorite book for the nth time.
Donating food, clothing, and other items to charity for needy people.
Spending time in a coffee shop alone with your Macbook or a paperback.
Enjoying the smell and taste of freshly brewed coffee.
Celebrating anniversaries, be it your parents' or anniversaries with your partner.
Enjoying the taste of freshly made pancakes.
Savoring both sweet and savory dishes for any particular occasion or get-together.
Meeting someone famous.
Meeting a celebrity on whom you have a crush.
Going out for late-night adventures on the road with friends.
Buying your first lottery ticket.
Winning a prize in the lottery.
Making art on your own.
Trying out new art techniques, such as finger painting and knife painting.
Falling in love with someone.
Letting go of someone.
Kicking old habits.
Get yourself a wacky new haircut.
Enjoy the different phases and sizes of the moon, such as the new moon and full moon.
Take short power naps between work sessions.
Healing someone.
Putting on new socks on a cold day.
Getting back something that you had lost.
Reading new books every month.
Enjoying the fresh scent on every page of a new book.
Sleeping in a tent or a camp with friends and loved ones.
Sleeping out in the open.
Improving your own skills.
Working on bettering your personality.
Focusing on the improvement of your communication.
Be proud of yourself for all the work that you have done.
Putting your hand on your chest and feeling your heartbeat.
Discovering who you are and your hidden talents.
Showcasing your talent in front of the world.
Becoming famous for your achievements.
Crying out of sheer happiness.
Singing loudly in the bathroom while taking a shower.
Dancing naked with your partner.
Sleeping in the nude can be a very comforting feeling as well.
Standing up for what you believe to be right.
Crossing off your to-do bucket list.
Trying out things you haven't tried before.
Learning something new each year.
Be true to who you are and what you are all about.
Expressing yourself uninhibitedly and completely.
Befriending cats and dogs roaming in the streets.
Soaking in the scent of damp soil right after it has rained.
Cutting your birthday cake every time you grow older.
Being so happy that you cannot stop smiling.
Figuring what your life is all about.
Having a banana split in an ice cream parlor.
Spending a day at a fair.
Binge-watching OTT shows all day.
Enjoying chocolates that melt in your mouth.
Overcoming your fears.
Cutting out toxic people in your life who were hindering your growth.
Impacting someone physically or mentally, in a positive way.
Talk about something that you are passionate about.
Receiving a handwritten letter from someone.
Sending someone a handwritten letter.
Forgiving someone who had wronged you in the past.
Making the world a better place with your social contributions.
Balancing out your work and personal and making the best out of it.
Fighting off your demons.
Helping people fight their demons.
Accepting your flaws and working on things that you can change.
Breathing in clean air.
Drinking clean water every day.
Conquering your dreams.
Living on your own as an independent individual.
Being curious about life.
Water plants in your garden.
Jumping back into your bed to rest after a hard day.
You will certainly feel a tiny-weeny bit of motivation to progress in your life and career and live your life to the fullest after reading the above 100 reasons to stay alive. If you have any more to add to the list, feel free to let us know!
Read  more
6 Benefits of Practicing The Science of Gratitude
Pin this for later