Thanksgiving season is right around the corner, and then Christmas is coming up, followed by the 31st night. In this holiday season, it is absolutely essential that you take good care of yourself and stay healthy and enjoy this phase to the fullest of your capabilities.
You have to make sure that you spend quality time with your friends and family throughout the holiday season. You also have to take care that the plans you make for the holiday season are fruitful in the long run and learn from the experience that you garner in each holiday season. Make sure that you achieve all that you have set out for.
Here are 21 tips that you can follow in order to have a healthy holiday season 2023.
1. Focus on what you want:
Everyone has certain things to achieve during the holiday season, be it traveling to a new place in the company of near and dear ones or finishing certain work that has been due for a long period of time. The goals differ from one individual to another. If you have certain goals for yourself for the holiday season as well, fret not – make a conscious choice to focus on all that you want and try to achieve as many of them as possible.
2. Make plans early on:
Last-moment planning can lead to unnecessary panicking which will only lead to chaos and confusion. Chalk out your calendar well before time so that you get a clear idea of all that needs to be done during the holiday season.
3. Practice self-care:
If you want to take care of other people, who happen to be close to you, first you have to learn to take care of yourself. Self-care can mean a lot of things – for instance, going to the parlor for waxing on time, going to the gym regularly, and not cheating your diet frequently. Simple steps in self-care can have a big impact on us.
4. Take care of your mental health:
In correlation to physical health, keeping your mental health in check is equally important, if not more. If you feel overly anxious, depressed, or face any other issue with your mental health, take action immediately. Consult a mental health expert as soon as possible because the repercussions of untreated mental illness can be severe and even life-threatening. During the holiday season, your anxiety levels might increase a bit more due to partaking in all that planning and execution of those plans. Make sure that you are on edge and do not feel panicked or have any negative feelings for a long period of time. If you ever feel out of control, always remember – there is a solution for you. Reach out for help on time.
5. Communicate with other people:
Communication is necessary in order to make things work, and when the holiday season is coming up, you have to continually make plans with family members as well as friends. Let people know what you are thinking and consider their suggestions as well.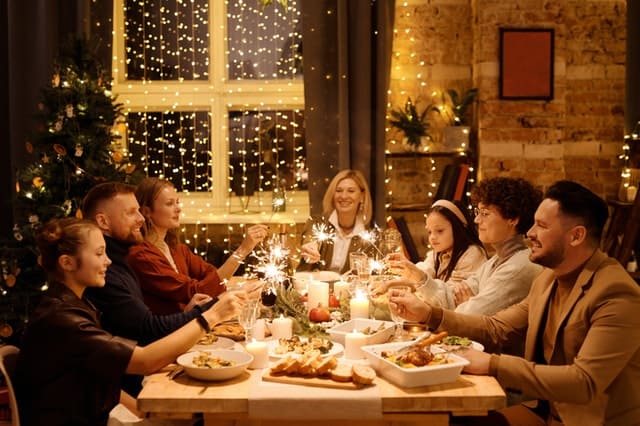 6. Maintain cleanliness:
Consistently maintaining a clean and hygienic lifestyle is something that all of us should inculcate, more so during the holidays when a lot of guests come over. Make sure that all the washrooms in the house are cleaned and sanitized regularly, the kitchen is free of wastes, and all the rooms – free of dust and regularly cleaned.
7. Wrap yourself up in a blanket in order to keep warm:
With the arrival of winter, people who are winter lovers are likely to feel a different level of enthusiasm. The comfort of wrapping yourself up in a blanket in the cold weather is truly another name for comfort.
8. Eat healthy meals:
Stop ordering unhealthy, junk food from outside! Choose meals that are relatively healthy for you – starting from plenty of greens containing a sufficient amount of vitamins, minerals as well as roughage, diets that lessen the carb intake and keep it the requisite amount and also keep the body requirement of proteins covered. Even on special occasions and festivals, try to avoid food that is too spicy or oily and go for food that is easy to digest.
9. Stay hydrated:
With healthy eating, it is absolutely necessary for you to stay hydrated. Blame it on the chilly winter season or the rush of the holidays, many of us forget to drink a sufficient amount of water and as a result of this, our body suffers. Dehydration due to a consistent lack of water in the body is a common problem, along with other serious health issues as well. Make sure that you drink enough water per day unless you have any pre-existing medical conditions.
10. Avoid smoking:
Smoking is injurious to health – many ignore this simple warning but smoking for a long time can lead to serious repercussions for your physical well-being. If you are a chain smoker or someone whose rate of smoking typically increases during the holidays, take steps to keep a check on it. Utilize the time you get during the holiday season.
11. Monitor your alcohol intake:
A holiday does not mean that you go all out with booze! Rather, it is the exact opposite, the holiday season is the time when you have to be more measured with your alcohol intake and be careful with how much your companions are drinking at parties as well.
12. Sleep sufficiently:
Sleep! The biggest issue in our life is sadly often the most ignored one as well due to unlimited internet connectivity and improper time management. Take the opportunity this year during the holidays to make up for all the sleep you have sacrificed, either for work or some other reason. Just relax and doze off!
13. Spend time with your near and dear ones:
Make sure that neither you nor the people close to you miss out on any of the fun when it comes to the holidays, particularly days like Thanksgiving, Christmas, or Easter. Organize get-togethers where all of you can watch movies, play fun games, and have delicious food in each other's company.
14. Stay active physically:
During holidays, you may feel like spending all day with your gadgets in bed, but it would certainly not be an ideal scenario. In order to stay physically fit, you have to keep yourself active. Go out for a walk alone or with your pet, go out to eat with your family members. Spend time at the gym if you are a hardcore exercise fan, you can try light free-hand exercises or even yoga at home as well.
15. Balance out your stress levels:
Staying overly stressed due to work is very common; use the time you get during the holidays to de-elevate your stress levels and get back on track. Talk to your family members about anything that is bugging you, seek professional help if necessary.
16. Get regular health check-ups:
Get regular health check-ups and screenings done at the doctor's clinic from time to time. The holiday season would be the best time to get yourself checked since you have plenty of time to spare. Go for a check-up along with all of your family members just to stay on the safe side.
17. Share daily errands among yourselves:
When you are home during the holidays, help out your family members with the daily errands, this gesture of yours will please them. Go to the grocery store to buy extra supplies for upcoming events like Thanksgiving and Christmas, invite friends over if you need any extra hands on deck for organizing the events.
18. Manage your finances:
The holiday season is usually the time we become somewhat spendthrift, spending money on garments, food, drinks, and whatnot. If you want to save up on some of the cash in hand this year, make a budget early on and chalk out approximately how much you will be spending on specific items.
19. Don't hesitate to ask for help:
Reach out to your family members as well as friends if you require any kind of help for organizing the Thanksgiving or Christmas parties. The same goes for the 31st night.
20. Learn from experience:
The past holiday seasons of your life must have surely taught you a lot about organizing events and people management. Make use of all that experience and make the holidays this year even a better one.
21. Don't forget to enjoy, because it's the holiday season after all:
Amidst keeping all things balanced and healthy, do not forget the main part – that is, enjoying the holiday season. Take time out to experience new things with your near and dear ones and make new memories every time!
The holiday season is the time when you let loose and have some fun with people who are close to you. Make sure that you have fun and maintain your health quotient at the same time!
Read more
70 Best New Year Resolution Ideas – Let This Year Be The Change
How To Love Yourself: 7 Ways To Practice Self-love
Pin this for later