In this article, we bring to you XXXTENTACION Quotes. Jahseh Dwayne Ricardo Onfroy, known to the world simply as XXXTENTACION, was an American rapper, singer, and songwriter.
These XXXTENTACION quotes about life will surely inspire and motivate you to make big strides to progress in life.
XXXTENTACION as a public figure had his fair share of controversies during his short life span of 20 years. However, having said that, it cannot be overlooked that the man was an incredibly gifted artist, a caring and compassionate soul and someone who made powerful statements without shying away from the limelight.
XXXTENTACION is a legacy that will live on, despite the hard-hitting reality that he was gunned down in June 2018 and left for his heavenly abode. His music cannot be classified into one particular genre, his works cover numerous genres and are regarded by his fans as some of the greatest, pathbreaking works in music. His mixing style was also noted as crude without much polish, which he has stated was done intentionally to retain their originality. His posthumous work has also garnered a lot of attention from music lovers all over the world.
Regardless of the fact whether you love him or hate him, you simply cannot ignore him! Here are 60 XXXTENTACION quotes about life, love, depression and much much more.
60 XXXTENTACION Quotes And Lyrics
1. "I'm lost then I'm found" — XXXTENTACION, SAD!
2. "Who am I? Someone that's afraid to let go" — XXXTENTACION, SAD!
3. "The saddest thing about betrayal is that it never comes from enemies, it comes from those you trust the most."— XXXTENTACION
4. "You decide if you're ever gonna let me know" — XXXTENTACION, SAD!
5. "I'm in pain, wanna put 10 shots in my brain I've been tripping bout some things, can't change suicidal, same time I'm tame."— XXXTENTACION, Jocelyn Flores
6. "I can't seem to find someone's shoulder
Who will I rely on when it's over?" — XXXTENTACION, ALONE PART 3
. "So outside of my misery, I think I'll find
A way of envisioning a better life" — XXXTENTACION, Hope
8. "I'm sadder than most of you with the money and the freedom" — XXXTENTACION
9. "Make out hill, where we met
We let our lips do all the talkin' and now I'm hooked…"  — XXXTENTACION, Depression & Obsession
10. "I've been feeling really lost, ducking all attachments
I don't really go outside 'cause I hate traffic"  — XXXTENTACION, Everybody Dies in Their Nightmares
Sad XXXTENTACION quotes and lyrics about love and relationships
11. "I gave her everything. She took my heart and left me lonely. I've been broken, heart's contentious. I won't fix, I'd rather weep. I'm lost then I'm found, but it's torture being in love."— XXXTENTACION, SAD!
12. "I love when you're around
But I hate when you leave" — XXXTENTACION, SAD!
13. "But it's torture being in love" — XXXTENTACION, SAD!
14. "What is money really worth if it ain't love?" — XXXTENTACION
15. "I'm nauseous, I'm dyin'
She ripped my heart right out
Can't find her, someone to—
My eyes are all cried out" — XXXTENTACION
Inspirational XXXTENTACION quotes to remember the rapper by
16. "Follow your dreams, and know that even though you have lost, you have guardian angels watching over you, day in and day out" — XXXTENTACION
17. "I could never say I understand how you are all feeling, nor can I find the right words to say to you, but I do want you all to know, you are not alone." — XXXTENTACION
18. "Hello, from the dark side in
Does anybody here wanna be my friend?" — XXXTENTACION, Save Me
19. "Carry on, like flights, I just carry on
With this pain inside of my chest
Got no choice but to carry on"  — XXXTENTACION, Carry On
20. "Being alone really makes you realize all you got is yourself." — XXXTENTACION
Inspirational XXXTENTACION quotes and lyrics
21. "Please stop making me think you care if you don't." – XXXTENTACION
22. "People always leave. Don't get too attached." – XXXTENTACION
23. "We're all fighting battles no one knows about." – XXXTENTACION
24. "I like to rock out like I'm misfit." – XXXTENTACION
25. "My heart can't take this damage." – XXXTENTACION
26. "I'm always where the sun don't shine." – XXXTENTACION
27. "Please don't throw your love away." – XXXTENTACION
28. "I can't seem to forget the pain you seem to give
The pain you seem to give, my friend." – XXXTENTACION
29. "So outside of my misery, I think I'll find. A way of envisioning a better life." – XXXTENTACION
30. "Some kill, some steal, some break your heart." – XXXTENTACION
XXXTENTACION quotes and lyrics
31. "And every single year
I'm drowning in my tears, I'm drowning in my tears again." – XXXTENTACION
32. "Memories surface through the grapevine." – XXXTENTACION
33. "Time is valuable.. don't waste it." – XXXTENTACION
34. "It's unfortunate because it's like, yo, when people die, that's when we like 'em, you know? 'Cause your remorse kinda makes you check 'em out." – XXXTENTACION
35. "All alone, call my phone, make me feel right." – XXXTENTACION
36. "Tired of feelin' like I'm trapped in my damn mind." – XXXTENTACION
37. "You ain't even showing me the love you say you got for me." – XXXTENTACION
38. "Why am I so in love? Why am I so in love? Why am I so in love? I don't know why." – XXXTENTACION
39. "Is my pain your freedom?" – XXXTENTACION
40. "Only time I feel pain, when I'm feelin' love." – XXXTENTACION
41. "The enemy does not want you to be happy, be happy, always." – XXXTENTACION
42. "Be kind to one another, even when it's not requested." – XXXTENTACION
XXXTENTACION quotes and lyrics
43. "Your self respect is what matters. You cannot have a good life or have other people respect you for that matter if you don't respect yourself." – XXXTENTACION
44. "Make sure you are being healthy in mind, being caring, compromising for the ones you love, being loyal to the ones you love. If you love someone you're supposed to be dedicated to them, right." – XXXTENTACION
45. "Life is a matter of perception. Everything is a riddle. You can simplify if you diversify your thoughts." – XXXTENTACION
46. "I don't wanna pretend we're something, we're nothing." – XXXTENTACION
47. "The pain in my heart just won't end
The words that I find just don't seem to compare
Awaiting my death in the end
Alone, I must seek out the end to begin
So nobody wants death
'Cause nobody wants life to end" – XXXTENTACION
48. "Girl you're making it hard for me.." – XXXTENTACION
49. "Where was I?
When he was feeling on you with his hands, at night?
Seen the vivid pictures in my head, at night
It left me in tears" – XXXTENTACION
50. "Rain keeps falling, tears keep falling. Darling, your love is like walking a bed of nails and I just can't keep on fine." – XXXTENTACION
Motivational XXXTENTACION quotes and lyrics
51. "I finally have everything in my hands so now you're gonna see who's the greatest artist of the century." – XXXTENTACION
52. "If I could act on my revenge, then, oh, would I?" – XXXTENTACION
53. "As of right now I want to work with the Fray, Kings of Leon, and probably Lorde. I do multi-genre, I don't just rap." – XXXTENTACION
54. "Some kill, some steal, some break your heart
And you thought that I would let it go and let you walk
Well, broken hearts, break bones, so break up fast
And I don't wanna let it go, so in my grave I'll rot" – XXXTENTACION
55. "It's too much, my heart's crushed, I'm not alive I won't allow myself happiness 'cause it's all lies." – XXXTENTACION
56. "Made a list of my regrets
And you were first, love, oh
Oh, it hurts, I can't forget" – XXXTENTACION
57. "Cut out my eyes, feed me with lies so that I don't ever have to see again." – XXXTENTACION
58. "It all takes time." – XXXTENTACION
59. "Who am I? Someone that's afraid to let go, uh You decide if you're ever gonna let me know (yeah) Suicide if you ever try to let go, uh I'm sad, I know, yeah, I'm sad, I know, yeah." – XXXTENTACION
60. "It is all a process, the longer you wait the longer it will take." – XXXTENTACION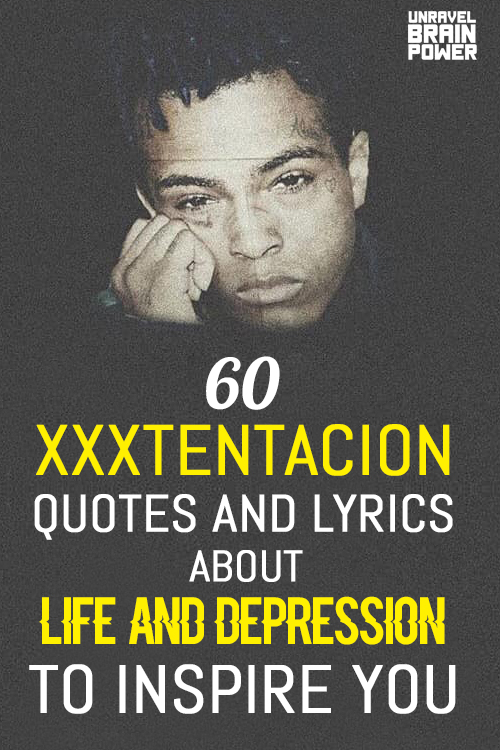 Read More – 39 Uplifting Quotes By Taylor Swift