We have collected some stress and anxiety quotes that will help you to get through a bad day and feel better.
Here are Anxiety Quotes to Reduce Stress, Tension & Anxiety
1. Anxiety is the hand maiden of creativity. – T. S. Eliot
2. Stress is nothing more than a socially acceptable form of mental illness. – Richard Carlson
3. The components of anxiety, stress, fear, and anger do not exist independently of you in the world. They simply do not exist in the physical world, even though we talk about them as if they do.
– Wayne Dyer
4. Anxiety is the dizziness of freedom. – Soren Kierkegaard
5. It's not stress that kills us, it is our reaction to it. – Hans Selye
6. Anxiety is love's greatest killer. It makes others feel as you might when a drowning man holds on to you. You want to save him, but you know he will strangle you with his panic. -Anais Nin
7. If you can't do anything about it then let it go. Don't be a prisoner to things you can't change. – Tony Gaskins
8. A crust eaten in peace is better than a banquet partaken in anxiety. – Plato
9. The largest part of what we call 'personality' is determined by how we've opted to defend ourselves against anxiety and sadness. – Alain de Botton
10. Anxiety's like a rocking chair. It gives you something to do, but it doesn't get you very far.
– Jodi Picoult
11. If you don't think your anxiety, depression, sadness and stress impact your physical health, think again. All of these emotions trigger chemical reactions in your body, which can lead to inflammation and a weakened immune system. Learn how to cope, sweet friend. There will always be dark days. – Kris Carr
12. Remember that stress doesn't come from what's going on in your life. It comes from your thoughts about what's going on in your life. – Andrew J. Bernstein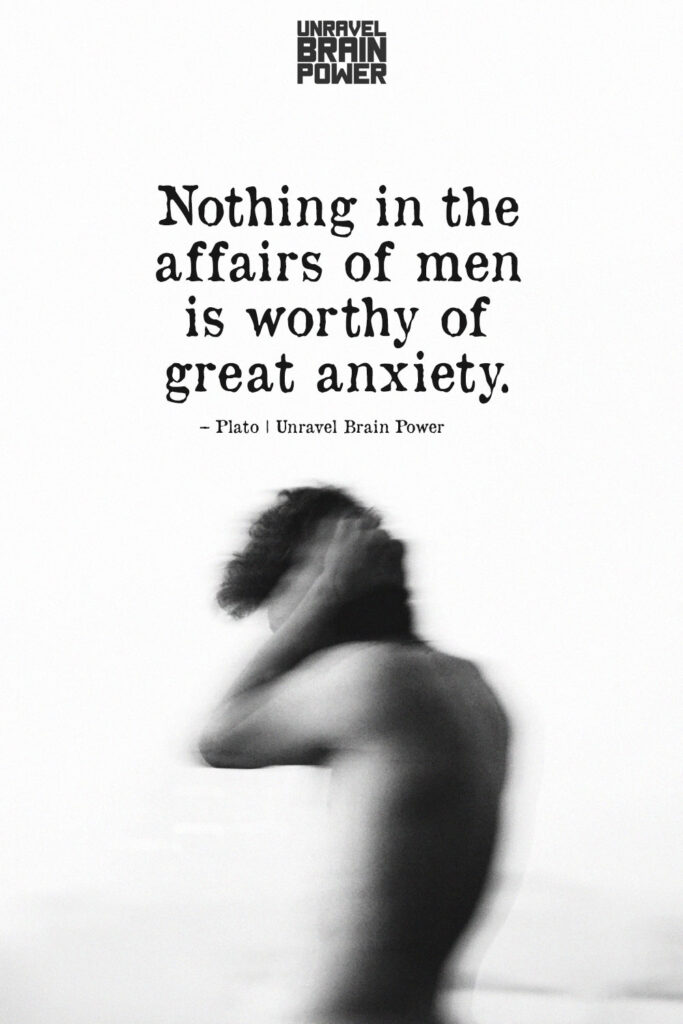 13. Nothing in the affairs of men is worthy of great anxiety. – Plato
14. You can't always control what goes on outside. But you can always control what goes on inside. – Wayne Dyer
15. Anxiety is one little tree in your forest. Step back and look at the whole forest.
16. Anxiety is a thin stream of fear trickling through the mind. If encouraged, it cuts a channel into which all other thoughts are drained. – Arthur Roche
17. A day of worrying is more exhausting than a week of work. – John Lubbock
18. You don't have to control your thoughts. You just have to stop letting them control you.
-Dan Millman
19. You must learn to let go. Release the stress. You were never in control anyway.
– Steve Maraboli
20. Without anxiety and illness I should have been like a ship without a rudder. – Edvard Munch
21. You need to be able to manage stress because hard times will come, and a positive outlook is what gets you through. – Marie Osmond