In this post, we are sharing Collection Of Uplifting Quotes To Help Jump Start Your Day. Do you have a favorite uplifting quote?
1. "A constructive, useful life, good works, and good relationships are as valid as writing poetry or inventing the machine. Anything that one does well and obtains satisfaction from is a good enough reason for living. To be a decent human being that people like and feel better for knowing is enough." – Robert Gould
2. "Defeat is simply a signal to press onward." – Helen Keller
3. "Don't go through life, grow through life." – Eric Butterworth
4. "Failure is the condiment that gives success its flavor." – Truman Capote
5. "I believe that one defines oneself by reinvention. To not be like your parents, to not be like your friends. To be yourself, to cut yourself out of stone." – Henry Rollins
6. "If I persist long enough I will win." – Og Mandino
7. "It is tenderness for the past, courage for the present, hope for the future. It is a fervent wish that every cup may overflow with blessings rich and eternal, and that every path may lead to peace." – Agnes M. Pharo
8. "Life is 10% what happens to me and 90% how I react to it." – Charles R. Swindoll
9. "Love is the voice under all silences, the hope which has no opposite in fear; the strength so strong mere force is feebleness: the truth more first than sun, more last than star . . ." – E.E. Cummings
10. "Once you choose hope, anything's possible." – Christopher Reeve
11. "The best way to predict the future is to create it." – Abraham Lincoln
12. "There is no education like adversity." – Benjamin Disraeli
13. "Twenty years from now you will be more disappointed by the things that you didn't do than by the ones you did do, so throw off the bowlines, sail away from safe harbor, catch the trade winds in your sails. Explore, Dream, Discover." – Mark Twain
14. "When we stop opposing reality, action becomes simple, fluid, kind, and fearless." – Byron Katie
15. "Your living is determined not so much by what life brings to you as by the attitude you bring to life; not so much by what happens to you as by the way your mind looks at what happens." – Khalil Gibran
16. "All life is an experiment. The more experiments you make, the better." – Ralph Waldo Emerson
17. "Discouragement and failure are two of the surest stepping stones to success." – Dale Carnegie
18. "Each morning when I open my eyes I say to myself: I, not events, have the power to make me happy or unhappy today. I can choose which it shall be. Yesterday is dead, tomorrow hasn't arrived yet. I have just one day, today, and I'm going to be happy in it." – Groucho Marx
19. "Focus on the journey, not the destination. Joy is found not in finishing an activity but in doing it." – Greg Anderson
20. "I don't believe people are looking for the meaning of life as much as they are looking for the experience of being alive." – Joseph Campbell
21. "If more of us valued food and cheer and song above hoarded gold, it would be a merrier world." – J.R.R. Tolkien
22. "I've been absolutely terrified every moment of my life – and I've never let it keep me from doing a single thing I wanted to do." – Georgia O'Keeffe
23. "Life is a series of natural and spontaneous changes. Don't resist them – that only creates sorrow. Let reality be reality. Let things flow naturally forward in whatever way they like." – Lao Tzu
24. "Most great people have attained their greatest success one step beyond their greatest failure." – Napoleon Hill
25. "Only those who dare to fail greatly can ever achieve greatly." – Robert F. Kennedy
26. "The dreamers are the saviors of the world." – James Allen
27. "This world is your best teacher. There is a lesson in everything. There is a lesson in each experience. Learn it and become wise. Every failure is a stepping stone to success. Every difficulty or disappointment is a trial of your faith. Every unpleasant incident or temptation is a test of your inner strength. Therefore nil desperandum. March forward hero!" – Swami Sivananda
28. "We are each gifted in a unique and important way. It is our privilege and our adventure to discover our own special light." – Mary Dunbar
29. "When you rise in the morning, give thanks for the light, for your life, for your strength. Give thanks for your food and for the joy of living. If you see no reason to give thanks, the fault lies in yourself." – Tecumseh
30. "Your present circumstances don't determine where you can go; they merely determine where you start." – Nido Qubein
31. "Be thankful for what you have; you'll end up having more. If you concentrate on what you don't have, you will never, ever have enough." – Oprah Winfrey
32. "Do not let what you cannot do interfere with what you can do." – John Wooden
33. "Even if you're on the right track, you'll get run over if you just sit there." – Will Rogers
34. "Happiness, true happiness, is an inner quality. It is a state of mind. If your mind is at peace, you are happy. If your mind is at peace, but you have nothing else, you can be happy. If you have everything the world can give – pleasure, possessions, power – but lack peace of mind, you can never be happy." – Dada Vaswani
35. "I've failed over and over and over again in my life. And that is why I succeed." – Michael Jordan
36. "If there is no struggle, there is no progress." – Frederick Douglass
37. "Keep your thoughts positive because your thoughts become your words. Keep your words positive because your words become your behavior. Keep your behavior positive because your behavior becomes your habits. Keep your habits positive because your habits become your values. Keep your values positive because your values become your destiny." – Mohandas Karamchand Gandhi
38. "Life will give you whatever experience is most helpful for the evolution of your consciousness. How do you know this is the experience you need? Because this is the experience you are having at the moment." – Eckhart Tolle
39. "Most humans are never fully present in the now, because unconsciously they believe that the next moment must be more important than this one. But then you miss your whole life, which is never not now." – Eckhart Tolle
40. "Rise above the storm and you will find the sunshine." – Mario Fernandez
41. "The first step is you have to say that you can" – Will Smith
42. "To help yourself, help others. Whatever good you do travels a circle and returns to you many times over- but remember, life isn't about what you get, it's about what you become." – Dennis Gaskill
43. "We are shaped by our thoughts; we become what we think. When the mind is pure, joy follows like a shadow that never leaves." – Buddha
44. "With all its sham, drudgery, and broken dreams, it is still a beautiful world. Be cheerful. Strive to be happy." – Max Ehrmann
45. "Cherish your visions and your dreams as they are the children of your soul, the blueprints of your ultimate achievements." – Napoleon Hill
46. "Believe you can and you're halfway there." – Theodore Roosevelt
47. "Don't be intimidated by what you don't know. That can be your greatest strength and ensure that you do things differently from everyone else." – Sara Blakely
48. "Every small positive change we make in ourselves repays us in confidence in the future." – Alice Walker
49. "How wonderful it is that nobody need wait a single moment before starting to improve the world." – Anne Frank
50. "I've learned that people will forget what you said, people will forget what you did, but people will never forget how you made them feel." – Maya Angelou
51. "In the middle of a difficulty lies opportunity." – Albert Einstein
52. "Learn to enjoy every minute of your life. Be happy now. Don't wait for something outside of yourself to make you happy in the future. Think how really precious is the time you have to spend, whether it's at work or with your family. Every minute should be enjoyed and savored." – Nightingale
53. "Light tomorrow with today." – Elizabeth Barrett Browning
54. "Never be bullied into silence. Never allow yourself to be made a victim. Accept no one's definition of your life; define yourself." – Harvey Fierstein
55. "The best is yet to be." – Robert Browning
56. "The world is more malleable than you think and it's waiting for you to hammer it into shape." – Bono
57. "Today I choose life. Every morning when I wake up I can choose joy, happiness, negativity, pain… To feel the freedom that comes from being able to continue to make mistakes and choices – today I choose to feel life, not to deny my humanity but embrace it." – Kevyn Aucoin
58. "We must embrace pain and burn it as fuel for our journey." – Kenji Miyazawa
59. "You have to decide what your highest priorities are and have the courage—pleasantly, smilingly, non-apologetically, to say 'no' to other things. And the way you do that is by having a bigger 'yes' burning inside." – Stephen R. Covey
60. "Count your age by friends, not years. Count your life by smiles, not tears." – John Lennon
61. "Don't wait. The time will never be just right." – Napoleon Hill
62. "Expect to have hope rekindled. Expect your prayers to be answered in wondrous ways. The dry seasons do not last. The spring rains will come." – Sarah Ban Breathnach
63. "I am determined to be cheerful and happy in whatever situation I may find myself. For I have learned that the greater part of our misery or unhappiness is determined not by our circumstance but by our disposition." – Martha Washington
64. "I've missed more than 9000 shots in my career. I've lost almost 300 games. 26 times I've been trusted to take the game winning shot and missed. I've failed over and over and over again in my life. And that is why I succeed." – Michael Jordan
65. "It always seems impossible until it's done." – Nelson Mandela
66. "Life has no limitations, except the ones you make." – Les Brown
67. "Like success, failure is many things to many people. With a positive mental attitude, failure is a learning experience, a rung on the ladder, a plateau at which to get your thoughts in order and prepare to try again." – W. Clement Stone
68. "Nothing splendid has ever been achieved except by those who dared believe that something inside of them was superior to circumstance." – Bruce Barton
69. "The best way out is always through." – Robert Frost
70. "There is a vitality, a life force, an energy, a quickening, that is translated through you into action, and because there is only one of you in all time, this expression is unique." – Martha Graham
71. "Try Again. Fail again. Fail better." – Samuel Beckett
72. "What you do speaks so loudly that I cannot hear what you say." – Ralph Waldo Emerson
73. "Your destiny is to fulfill those things upon which you focus most intently. So choose to keep your focus on that which is truly magnificent, beautiful, uplifting and joyful. Your life is always moving toward something." – Ralph Marston
Do you have a favorite uplifting quote?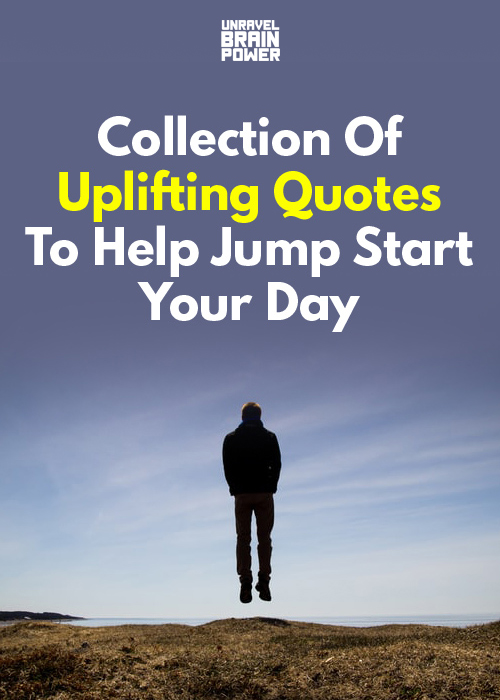 Read More – 12 Positive Quotes Of Wisdom By Maya Angelou