There are many reasons you need to stay at home, whether it's due to health, weather or whatever reason. If you're staying in with your boyfriend, the best thing you can do is take advantage and ensure you have quality time together. if you are planning new activities to spend time with your boyfriend then you are in the right place. We have listed couple activities to make your relationship more strong.
Things to do with your boyfriend at home that is pleasant and positive.
1. Workout together
Doing workouts together might give your relationship a new dimension. Take the boredom out of working out, organize new workout routines, and try them with each other. Have a shared fitness goal. Put on some great music and work on your fitness goal with your boyfriend by supporting and learning from each other.
2. Take art classes
Taking an art class is an interesting thing to do with your boyfriend. Find the different kinds of arts and crafts that you can do with your boyfriend. As a couple, it will give you a shared interest. Try something a little more unusual like glassblowing, sculpting, or learn to play a musical instrument together. Experience the learning journey with your boyfriend which is fun and thereby you'll be able to learn a new skill.
3. Couples quiz
Making quizzes for each other is one of the coolest things to do with your boyfriend at home. Come up with 25 multiple choice questions each should be about yourselves and then swap the pieces of paper for your boyfriend to answer. It's a good idea to make the questions tricky so that you will get to know how well your boyfriend knows you and it can be quite fun to see if he makes a mistake or not. After answering the questions, swap the papers back and tally them up and find out what you are missing about your boyfriend.
4. Do Things you keep putting off
Take advantage of this time to finish those little tasks you don't have time for on a day-to-day basis. Reorganize wardrobe, decorate the house or anything you keep putting off until later. Make small improvements around your home. You will get so much fun when you do it along with your boyfriend as the right decorations have a significant impact on improved mood.
5. Learn together
There are many free online tutorials available. Choose one and see the interests of your boyfriend. Learning can make the time you have together so rewarding.
6. Cooking Contest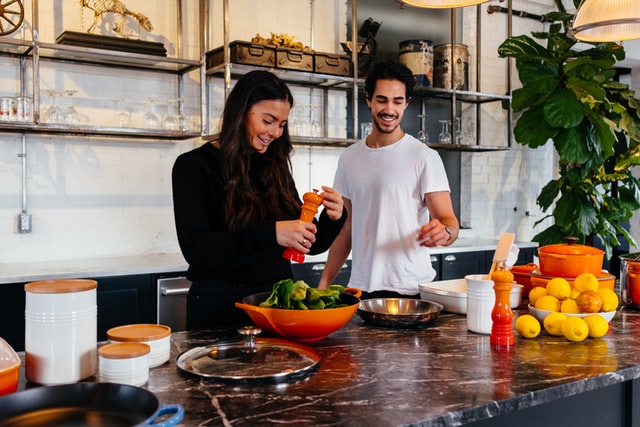 Cooking together and eating together are essential parts of a relationship. Spend time with your boyfriend by cooking and have a chance to appreciate little things in your relationship. You both prepare a new or favorite dish and present them for evaluation. By cooking together with your boyfriend you will enjoy the time and will not find cooking harder anymore. You can also teach your man how to do household work.
7. Do Tick- Tock
Tik-Tok is a great app for bringing lightness and humor into relationships, as it encourages couples to come together to play and have fun intentionally. There are many couple challenges out there on the internet to do in tick-tock. It can be fun, serious, artistic, or even suggestive, you can enjoy creating it together as a couple. It teaches you how to work together as a team with your boyfriend and it allows you to share an emotional experience.
8. Yoga
Start doing yoga together with your boyfriend more often or at least once a week to feel the benefits of having a good stretch. Doing yoga with your boyfriend can have a positive effect on your relationship that extends far beyond the physical.
9. Play games
See what games you have at home and get stuck in with your boyfriend. If you don't have board games at home, don't worry, there's a wide variety of games that require a little more than your imagination. Charades, miming games, games where you have to draw, guess the famous person, questions about your partner, and more. Play these games and be engaged with your boyfriend.